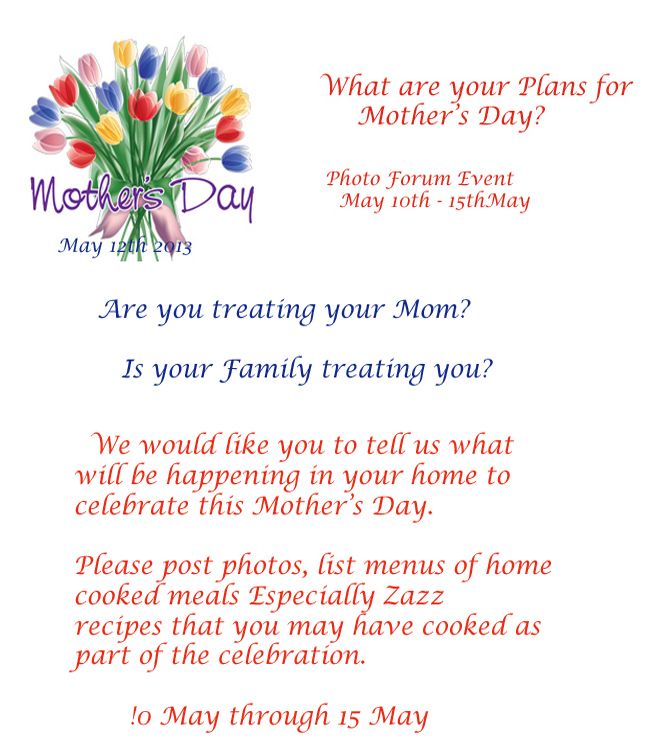 Here are a few bits that you may not know about the origin of Mother's Day
*The earliest history of Mother's day dates back to the ancient annual Spring festival the Greeks dedicated to maternal Goddesses. They honoured Rhea, wife of Cronus, and mother of many dieties
* Early Christians celebrated Mother's day of sorts during the festival on the fourth Sunday Lent in honour of the Virgin Mary
*In England this holiday was expanded to include all mothers and was called Mothering Sunday. It dates back to the 1600's.
* The idea of an official celebration of Mother's Day in the US was first suggested by Julia Ward Howe in 1872. She was an Activist, writer and poet (wrote "The Battle Hymn of the Republic). She suggested that June 2 be celebrated as Mother's Day and should be dedicated to Peace.
* Actually Anna Jarvis is recognized as the Founder of Mother's Day in the US. She was a loving daughter and never forgot her Mother's word that she wanted to see a day to celebrate all mothers, living and dead, and pay tribute to the contributions made by them to society. Anna sent Carnations to to the church service in Grafton to honour her Mother. They were her favorite flower. She dedicted herself to getting Mother's Day officially recognized. In 1914 President Woodrow Wilson signed a joint resolution declaring the 2nd Sunday in May as Mother's Day
* Today Mother's Day is celebrated in many countires around the world. It has become hugely popular but unfortunately it has become very commercialized and in a sense that takes away from the intent of honouring Mothers.
Enjoy Your Day, Honour Your Mother, or, I Hope, Have your Children Honour You